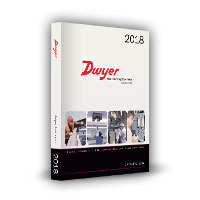 While summer is vacation time for most, it was the busiest time of year for the Dwyer marketing staff as we prepared for the launch of the 2018 Dwyer™ Catalog.
Many of your favorite products have been updated with new features, such as the addition of a High Accuracy version of our Magnehelic® Differential Pressure Gage; new lower ranges and an NPT process connection for our 616KD family of pressure transmitters; and new manifold valves for our Series 490A Hydronic Manometer. In addition to these updates, several new products have been released, including the Series AVUL Air Velocity Transmitter, that help make Dwyer a one-stop-shop for all of your instrumentation needs.
In order to help you select the proper products, the Dwyer team has added additional selection guides and product applications throughout the catalog. The selection guides help to compare products by differentiating the features and benefits. The application guides assist customers by mapping out items that are frequently purchased together for ease in ordering.
Be sure to request your  FREE printed copy of the 2018 Dwyer™ Catalog today!