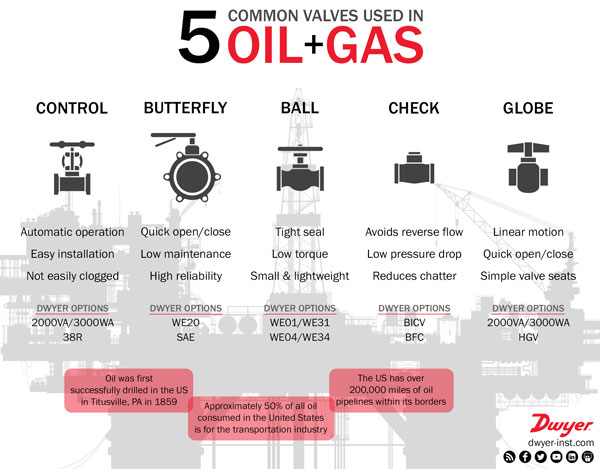 Valves are a vital part of any piping system, which means that they play a key role in the oil and gas industry. They can be used to control flow rates, to isolate and protect equipment, and guide and direct the refining process of crude oil. In this post, we will discuss five common valves that are used in the industry and what Dwyer Instruments, Inc. has to offer.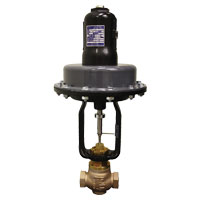 1. Control Valves
Control valves are valves that provide process control over flow rate, pressure, and temperature in the oil and gas industry. They work by varying the size of the flow passage way as directed by either a hydraulic, pneumatic, or electrical signal sent from a controller. The automatic operation of these valves gives them the ability to be operated remotely, rather than having an operator constantly monitoring and adjusting.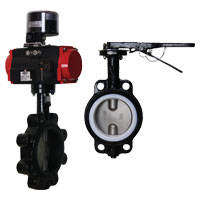 2. Butterfly Valves
Butterfly valves are used to isolate and modulate a variety of media with low pressure loss. The valve usually comes equipped with an actuator. Their small thickness allows them to fit almost anywhere, while their ease of availability in larger diameters means they can be used in large pipes. When actuated, they are quick to open and close and they provide high reliability with little maintenance.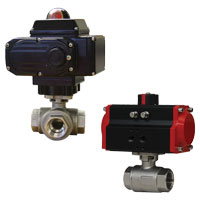 3. Ball Valves
Ball valves are designed to control the flow of high pressure liquids and gases with minimal pressure drop. They are quick to open and close, and have a tight seal with low torque. Their ease of operation, repair, and versatility lends the ability to be used in a variety of locations.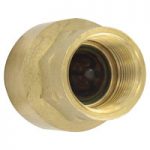 4. Check Valves
Check valves are used to prevent reverse flow through the pipes. Their service helps to protect pumps and equipment that could be damaged by backflow, reducing maintenance and downtime of the system. These valves have a low pressure drop, which increases energy savings. They also help to reduce chatter within the pipes.
5. Globe Valves
Globe valves are often used for isolation and throttling services. Installation is simple due to their easily machined valve seats. They offer a tight shut off ability, and the simple linear motion allows for a quick open and close of the valve.
The demand for oil and gas is constantly on the rise, and performance expectations are now higher than ever. Let Dwyer help you manage your oil and gas applications. For more information on any of the products mentioned in this article, please visit our website or call 1.800.872.9141 to speak to a technical engineer.