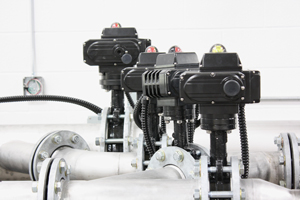 Brought to you by the W.E. Anderson division of Dwyer Instruments, the Series WE20 is a highly configurable line of butterfly valves designed to meet all of your specific demands. Our butterfly valves can be configured for manual operation, or for use with electric or pneumatic actuators. Our electric actuators are available with a weatherproof or explosion-proof housing option and are offered in a variety of supply voltages. The WE20 can be configured with position indicating switches, transmitters, or positioners. Depending on your application, we also offer EPDM or PTFE seats and wafer or lug style mounting in sizes from 2" up to 12".
What is a butterfly valve?
Butterfly valves are part of the valve family known as quarter-turn valves, meaning that the valve is either fully opened or fully closed when the disc is rotated a quarter turn. They are made of many components, with the main one being the metal disc, known as the butterfly. The main idea of a butterfly valve is to control the flow of air or liquids through a pipe. When the butterfly valves are fully open, they offer unrestricted flow. When partially open, smaller amounts of fluid or air can still pass through. Butterfly valves are compact, making them ideal for applications where space is tight. These valves require minimal maintenance and are commonly used in agricultural or water/wastewater treatment applications, although they can be suitable for many other applications as well.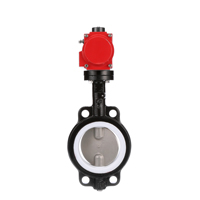 The most critical aspect of our WE20 series is its cartridge seat design, which helps to alleviate installation problems associated with common "dove tail design" seats. Valve torques are lower and more consistent, as the seat dynamics are not dependent on being coupled between two flanges. Precision machining of the disc and body allow the cartridge design to maintain a tighter disc-to-seal tolerance, providing a perfect low torque seal every time the valve is cycled.  The seat to disc seal is independent of flange support and capable of full rated dead end service.
Featured at the bottom of this article is a model chart showing the various types of butterfly valves and configurations we offer. For more information, please visit our website or call 1-844-372-5551 for help selecting a valve configuration to meet all of your needs.