Earlier this year, Dwyer Instruments released its new look and updated features for the wireless hydronic differential pressure manometer, Series 490W. This product is used for applications including: refrigerant pressure testing, hydronic valve balancing, measuring pressure drop across pumps, and measuring pressure drop across chiller and coils for freeze protection.
The original Series 490W hydronic balancing kit was recognized in 2018 at the AHR Expo Innovation Awards as the winner of the Tools and Instruments product category. Prior to this win, the 490W was also recognized as a Silver Award Winner in the Electronic and Hand Tools product category of the Dealer Design Awards Program sponsored by The Air Conditioning Heating & Refrigeration News magazine (ACHR News).
The Hydronic App that is used with the 490W manometer has seen many updates since its first launch in 2018, but our team determined that we could still simplify and improve the balancing process further. After speaking to customers and HVAC technicians, we've made several changes to this series. The new Series 490W kit features an enhanced app, easier connectivity, and longer battery life.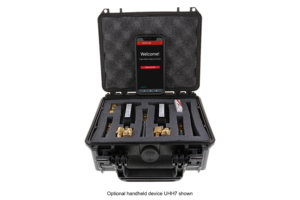 The Series 490W is easy to use. Because it's wireless, it means no hoses or bleed buckets are necessary when balancing. It's also lightweight and easy to carry up and down a ladder. Customers can choose to use the app on their own mobile device or our optional rugged handheld device, which is weatherproof and withstands a 1 meter drop test. The app's built-in valve charts eliminate the need for multiple slide wheels, thus saving time, and the app also allows users to record, log, recall, and export readings via simple steps. We've improved the wireless connectivity, which provides a range of coverage up to 65 ft (19.8 m). Finally, the 490W has a long battery life with approximately 7+ days of heavy use.
If you're interested in hearing more about the 490W updates and seeing it in action, the Dwyer team will be attending the following conferences in the next couple months:
MAEBA Recertification Seminar| 9/17-9/18 | Bethlehem, PA
Great Plains NEBB Annual Recertification Seminar | 9/21 – 9/22 | Kansas City, MO
MEBB Recertification Seminar & Vendor Expo | 9/23-9/24 | Wilmington, NC
AABC Annual Meeting | 10/4-10/6 | Scottsdale, AZ
SMACNA Annual Convention | 10/15-10/18 | Phoenix, AZ
NEBB Annual Conference | 10/26-10/28 | Monterey, CA
Dwyer values our customers and their opinions. Our main goal is ensuring that we have quality products to make jobs easier for our customers. Visit our website to learn more about Dwyer Instruments' test equipment: https://dwyer-inst.com/en/products/test-equipment.html