Dwyer products can be ordered either over the phone, or by using the Dwyer website. Benefits of ordering online include:
Configure your product
See all of the product specifications in real-time. Product pages also note when a product usually ships after ordering, so you can easily determine if a specific feature is worth the lead time.
Easy-to-read
By ordering online, it's easy to confirm information accuracy because everything is laid out in front of you. You'll be able to quickly read and verify all of the information.
Order 24/7
The website doesn't take vacations, which means you can even order on weekends or holidays.
Save time, save money
Check out as either a guest or with a Dwyer account. Guest checkout is useful when you're not sure if you will be ordering again, while checking out as a registered user will save time by reducing steps on repeat orders.
Your Dwyer account will allow you to view a list of all previous orders for the past year, and sort by PO number, order number or confirmation number. You'll also be able to quickly obtain order shipping dates and tracking information for any specific order. Online quotes (valid for 60 days and stored for 120 days) can be easily printed, e-mailed, or converted to an order. Projects can be stored and viewed for up to three years.
Easy access
Dwyer has both desktop and mobile sites for ordering in the office or on the go.
Now that we've discussed some of the benefits, I'd like to show you how easy it is to order a Magnehelic® Differential Pressure Gage, Series 2000.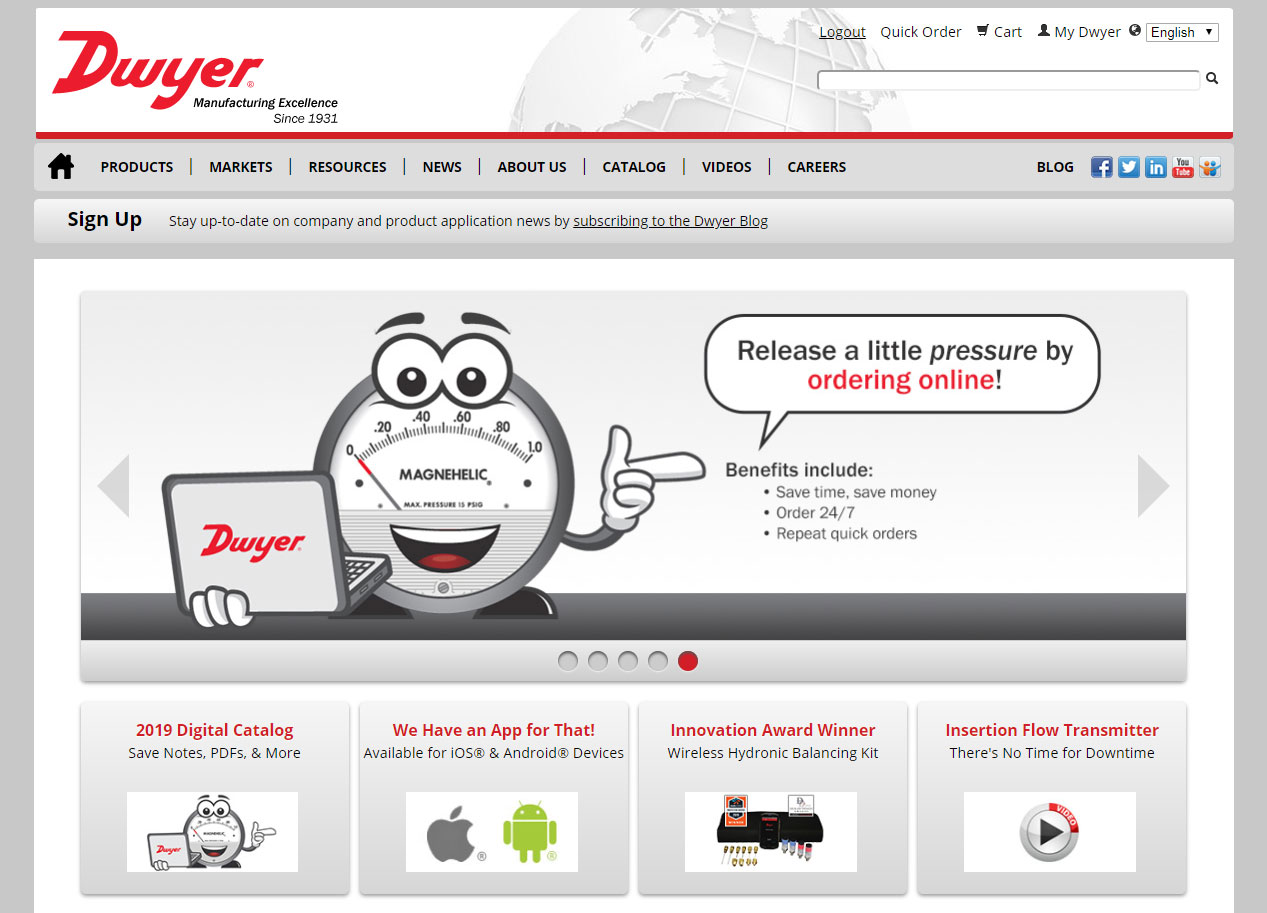 First, navigate to our website at http://www.dwyer-inst.com. You can explore the website a number of ways, but because we already know the product that we're looking for I'm going to search for "Magnehelic" in the search bar in the top right corner of the browser. Click the magnifying glass to view the search results and choose the option for "Series 2000 Magnehelic® Differential Pressure Gages".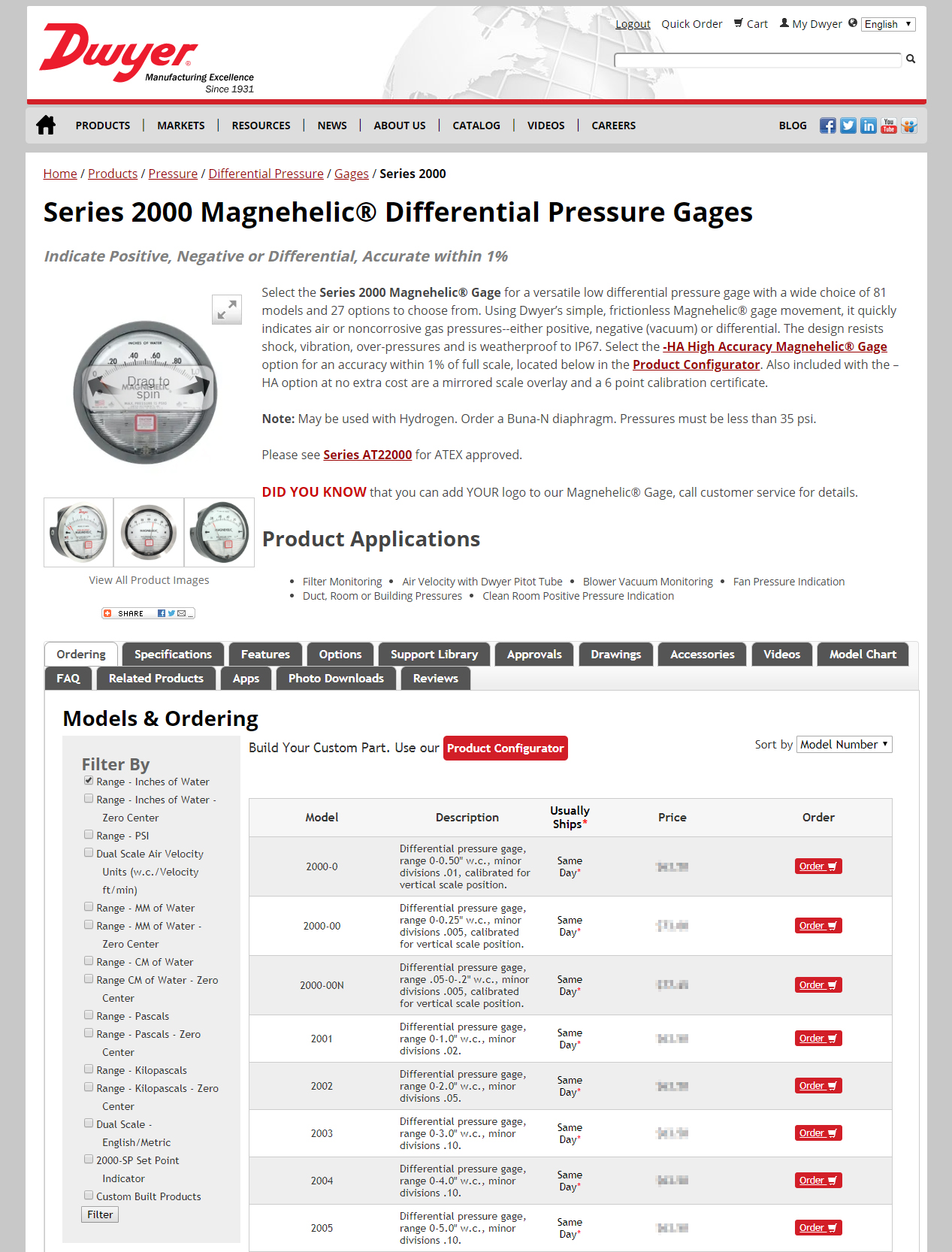 From the ordering tab on this web page, you will be able to choose from a number of stocked models or build a custom part for your application in the product configurator. You'll also be able to see how quickly a part will typically ship once it has been ordered.

To view the product configurator, click the red button under the ordering tab. Once there, select the model/range that is needed for your application, as well as any additional options. Click the red "add to cart" button on the right side of the page when everything looks correct.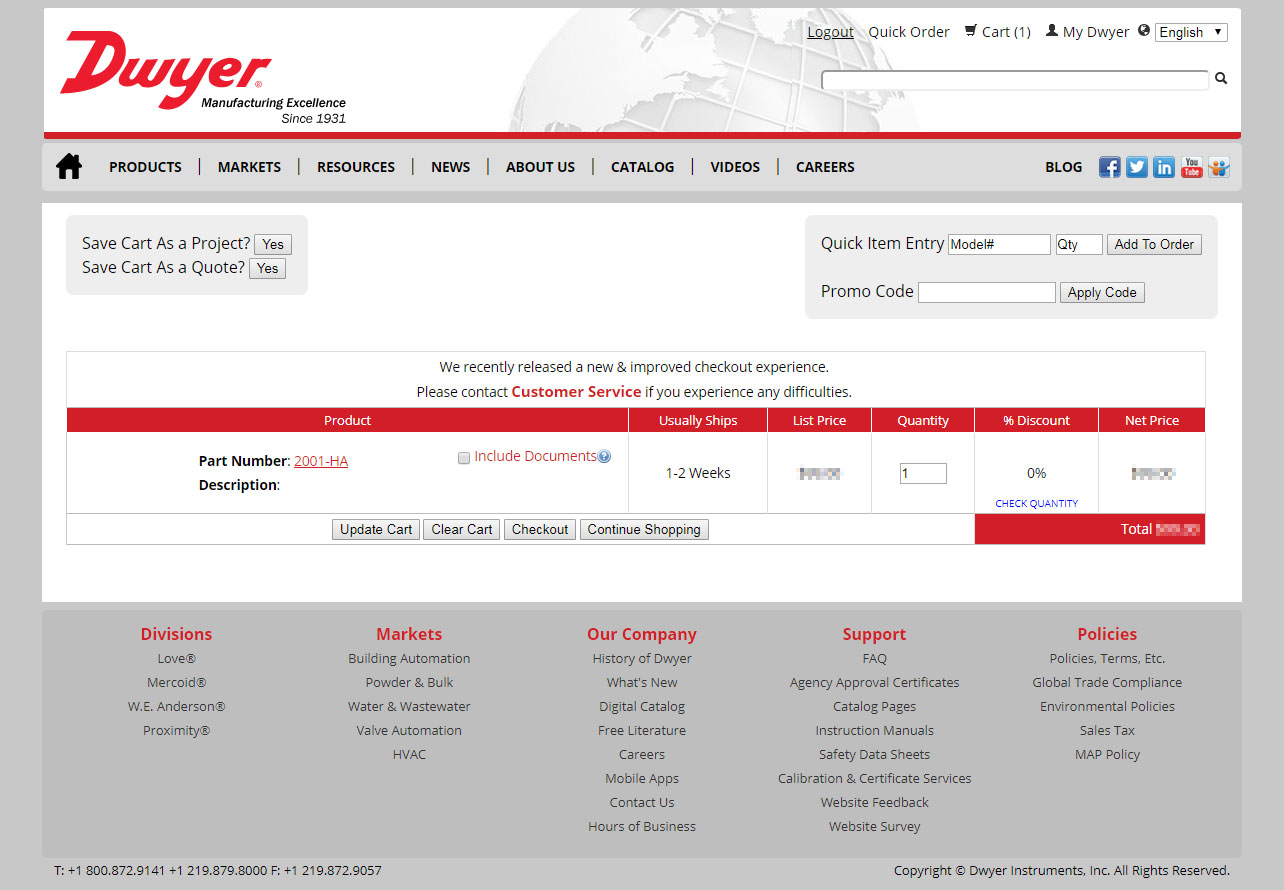 From the cart, click "checkout" and either register/sign in to your Dwyer account or continue as a guest. You will need to enter a valid e-mail address and your billing/shipping information. Continue to the next page to enter payment information. Orders can be paid via credit card or a Dwyer account.

Finally, review the order for accuracy and confirm your shipping method. When everything is satisfactory, click the green "place order" button.
Ordering instrumentation from the Dwyer website allows you to save time and money. Where ordering over the phone requires back and forth with a Customer Service Representative, ordering online allows for the freedom to select your exact preferences, on your own timetable.