The Series SAH SMART Air Hood® balancing instrument looks different than traditional air hoods, but that's because it's solving balancers' problems in a new way. Take, for example, some feedback we received from Ken (a TAB technician) earlier this year.
Small, highly maneuverable air hood
Ken was measuring standard 2' x 2' diffusers with our SMART Air Hood® balancing instrument and the new app. While taking measurements, he ran into an area with very little clearance. The SMART Air Hood® has a relatively low profile when compared to other hoods, and a traditional air hood wouldn't fit in this area. The size of the SAH saved Ken time, because he was able to use the same instrument that he was using for the rest of the job to take measurements in this low-clearance area.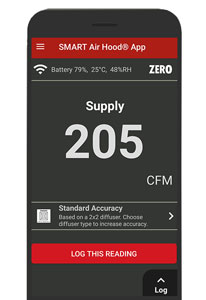 Easy-to-use app
Dwyer used a similar approach when designing our SMART Air Hood® app. Our team noticed that balancers wanted to quickly log, review, and clear their readings. To make that possible, the SMART Air Hood® app has logging access right from the home screen. Ken took seven measurements in a row and used the logging feature while balancing the system. The app kept track of how many logs had been measured, and Ken was able to make a single trip back to his computer to log the values into a project report.
The Dwyer team takes pride in listening to our customers and making product improvements based on their feedback. The SMART Air Hood® is no different. Designed to be the ideal hood for air balancing, we're proud to continue developing new solutions that make the balancing process easier than ever. To learn more about the SMART Air Hood® balancing instrument, please visit our website.