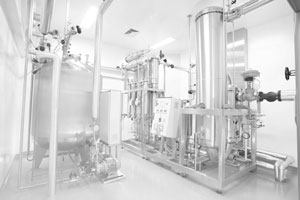 The Dwyer team recently released the StabiliSENSE™ critical room pressure monitor, Series RPMC. This series is ideal for critical low differential room pressure applications, such as: clean manufacturing areas, semiconductor manufacturing, pharmaceutical, clean rooms, research labs, and vivariums.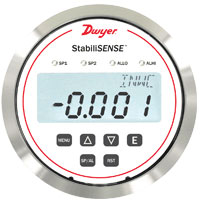 The StabiliSENSE™ critical room pressure monitor utilizes a capacitive cell technology to provide great long-term stability and accurate measurements. It is a complete system that enables access to pressure, security, calibration, and alarm setup, and the menu can be password-protected to ensure that no errors are made by untrained personnel.
The Series RPMC integrates 2 SPDT relays so that separate signals can be sent to a local alarm and to the control system in addition to the 4-20 mA process output. Built-in status indication lights also provide an immediate local alert in order to allow corrective action to be taken quickly. These lights will appear green when within the user-defined pressure set range and will appear orange when they are outside of this range.
The installation diameter is the same as a Magnehelic® gage, which simplifies field upgrade to a StabiliSENSE™ critical room pressure monitor. In addition, the standard brushed stainless steel bezel allows for easy cleaning and the flush mountable design does not obtrude from the wall.
To learn more about how the StabiliSENSE™ monitor can be used in your application, please visit our website.