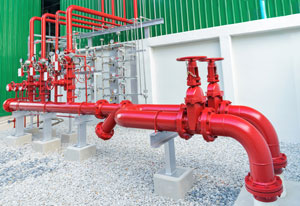 We recently met with Aaron, a customer working on a project in West Virginia who needed to replace pressure transmitters on water transfer pump skids.
The transmitters had been installed on the discharge line, and were outside exposed to the elements. The transmitters had plastic connectors which had a tendency to degrade over time due to the wind, rain, and sun, leading to premature failure. Without functioning pressure transmitters, the pump skids themselves would shut down and limit water transfer operations.
An effective solution to this problem was to replace the old transmitters with sensors that have a more robust connector.

The Series 628 industrial pressure transmitters have an option for an M-12 quick connection that would make future replacement quick and less labor-intensive. This quick connection means that all new cables would not need to be re-routed each time the sensor needs to be replaced. The 628 also offers a more robust metal connector, which is better able to withstand outdoor conditions. This helps prevent the need for a replacement due to premature failure of the connection.
Using a metal connector instead of plastic extends the life span of the transmitter "by at least twice as long as the plastic connector," saving replacement costs, labor, and application downtime. 
If you have any application questions, the Dwyer Applications Engineers are available to assist by phone at (219) 879-8000 x6402, or by email at tech@dwyermail.com.