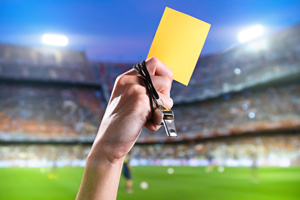 Let's spill the penal-tea: Yellow cards are traditionally not part of a goal-oriented team, but the UL Solutions' Plastics Recognition Program Yellow Cards are a forward thinking solution to promote the safety and quality of your plastic products within the HVAC Industry.
Puns aside, the UL Solutions Yellow Card is a globally recognized, third party guarantee that your polymeric materials meet both regulatory and safety standards. Traditionally the UL Yellow Card is used by original equipment manufacturers (OEMs) to meet performance expectations of regulatory bodies and sometimes used as a low-maintenance marketing tool.
UL Yellow Cards are, and will continue to be, a key way to prove a business's polymeric materials quality; only becoming more important as additional standards are created to meet product and human safety concerns in a world that is growing more technically advanced every day. Standards, such as UL 60335 for example, have requirements for internal and external parts of air handlers and other ventilation equipment to ensure materials and components are being evaluated for flame and smoke spread. This is mainly due to the increased fire hazards of using more environmentally friendly refrigerant gasses for conditioning air. 
A Yellow Card is issued when polymeric materials have successfully undergone UL's testing procedures and receive a UL Recognized Component Mark. These tests include:
Ignition and burning characteristics from thermal and electrical sources

Electrical, physical and mechanical characteristics

The effect of exposure to elevated temperatures, cold, water, ultraviolet rays, chemical fluids, etc.
Additional features of the Yellow Card Plastics Recognition Program include:
A globally respected safety certification and quality information card

Additional performance credentials, e.g., RoHS or non-Hal, that verify industry requirements

An attached White Card associated with international standards that can be used for global promotion

A digital version of the card available via UL iQTM and UL Solutions Prospector
It is now a universal truth that actions speak louder than coaches. Go get the ball rolling so you can score by visiting the UL Solutions Yellow Card Plastics Recognition Program webpage.
—
Sources:
https://www.ul.com/services/ul-yellow-card-plastics-recognition-program
https://www.ul.com/services/ul-yellow-card-plastics-recognition-program