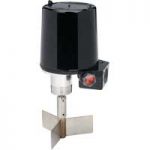 The Proximity Controls Division of Dwyer Instruments, Inc. specializes in both bulk level monitoring and valve position indication. Rarely do these two sides of the business intersect. That is until the engineers at Proximity Controls came across a challenge to improve an industry standard level sensing technology.
Rotary Paddle Level Switches have been around a long time, and most of these units work in a similar way. The motor located in the head of the product is directly linked to the shaft and spins a paddle until the paddle experiences enough resistance to overcome the force of the motor. Once the paddle stops spinning, a motor protection mechanism shuts off the motor until the resistance is no longer present. The shaft attached to the paddle extends into the housing and relies on elastomer seals to prevent bulk material from entering the housing.
The design of the Rotary Paddle Level Switch (Series PLS) is focused on extending the life of the motor by introducing time-proven magnetic drive technology from the Position Indicator/Switch/Transmitter (Series Mark). This design links the paddle to a magnet located in the lower housing. The lower housing is physically isolated from the upper housing and contains the motor and relays. Because there isn't a direct linkage from the paddle to the motor, bulk material dust cannot travel up the shaft. This design eliminates a potentially hazardous condition.
The magnetic drive also protects the motor from damage, as the magnet in the lower housing rotates a magnet in the upper housing. The magnet in the upper housing is directly coupled to the motor and automatically turns off the motor when the paddle stops. The magnetic discs also act as a slip clutch to protect the motor from damage when the paddle is hit by sudden force or excessive loads that causes it to rotate in the opposite direction.
In conclusion, the Paddle Level Switch (Series PLS) utilizes magnetic drive technology to provide greater hazardous area protection and extend the life of the motor. This innovative design achievement makes the Series PLS the most reliable product in its class.