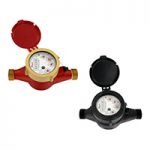 Dwyer Instruments, Inc. is proud to announce the release of two new Multi-Jet Water Meter series.
The Series WMH is a  Multi-Jet Hot Water Meter with a pulsed output and is designed to work in high temperature applications. While most standard water meters are limited to 122°F (50°C), this hot water meter has a maximum temperature threshold of 190°F (88°C). Even within this increased temperature range, the Series WMH maintains its high accuracy.
The Series WMH is great for the HVAC and BAS markets. It can be used to monitor water in boilers and other hot water applications. Because this water meter allows users to monitor mechanical system requirements for min/max flow and no flow conditions, it is ideal for measuring total condenser water flow in residential, commercial, and industrial applications with high temperature water.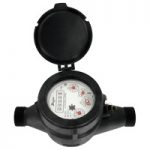 The Series WPT is a Multi-Jet Plastic Water Meter with a pulsed output. These water meters have a plastic body which allows them to be used in potable water applications, some corrosive environments, or where an economical water totalizer is desired.
The low lead content of the Series WPT makes these units suitable for the Process and Irrigation markets, where they can be used in agricultural applications or for residential needs. With these plastic water meters, users can monitor total water flow usage in order to determine an ideal crop yield and to regulate water usage.
The Series WMH and WPT are both available in a range of body sizes with NPT or BSPT optional couplings. These water meter families feature a magnetically actuated drive and hermetically sealed dial, which does not leak or fog. This prevents water from entering the register, protecting the meters from the elements.  Additionally, these water meters use a dry contact closure that does not require power. They provide a pulse output that is sent via a reed switch activated by a magnet on the dial for remote monitoring. All of these components come together to offer a long service life and relatively maintenance-free operation, even under adverse conditions.