While the end of the calendar year is busy for many Sales Departments focused on hitting their quotas, the Engineers at Dwyer Instruments, Inc. put in long hours each December to release the latest innovations for the HVAC market. In 2017, Dwyer released three award winning products (the PredictAir® Software App for the Smart® Air Hood Balancing Instrument, the Series AVUL Air Velocity Transmitter, and the 490A-HKIT Hydronic Balancing Manometer Kit) for the AHR Expo. For next week's 2018 edition of AHR, the Dwyer team raised the bar another level with a slew of new product innovations.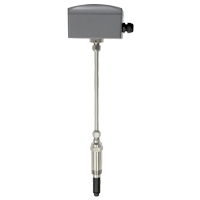 Our biggest product launch for this year's show is our Series IEF Insertion Electromagnetic Flow Transmitter. Magnetic flowmeters and flow transmitters are often desired due to their high accuracy and lack of moving parts which would wear over time. The Dwyer IEF Insertion Flow Transmitter maintains its accuracy with additional installation flexibility. Users can enter their application information into the intuitive display and the installation tool will help them align the flowmeter.
Another major innovation is our Series 490W Wireless Hydronic Manometer. Two remote, color-coded transducers mount directly to the balancing valve and communicate via Bluetooth® Wireless Technology to your phone or tablet. The app can currently display up to three valves at a single time so a balancer can see how adjustments to one valve affect other valves in the system. Flow curves are factory programmed so that the flow can be read directly in the app.
For balancing air systems, our FREE TraversIT Software App helps guide balancers through taking a traverse reading of a duct. It calculates where to drill holes and how far to insert the Pitot tube or hot-wire anemometer into the duct. At the end of the traverse, it generates a report of the average flow readings.
Also for air balancing, Dwyer Instruments, Inc. has partnered with TABopts Testing and Balancing project management software. This partnership allows users of the Smart® Air Hood Balancing Instrument (SAH) to configure their systems on a PC or tablet and download the configuration to the PredictAir® Software App for Predictive Balancing. The communication, between the two pieces of software, allows users to integrate air flow measurements taken with the SAH into the reporting software.
Dwyer will also review some of the enhancements to the Series 2000 Magnehelic® Differential Pressure Gage, Series TUF Ultrasonic Energy Meter, Model 160G Averaging Air Flow Grid, and Series 616KD DIN Rail Mounted Differential Pressure Transmitter. We will be giving sneak peaks at some exciting 2018 new products, such as the Series WE09 / WE36 Characterized Ball Valves and Series FLM Flanged Magnetic Flowmeter.
Be sure to stop by AHR Booth 4732 to experience this exciting line up of innovative products!