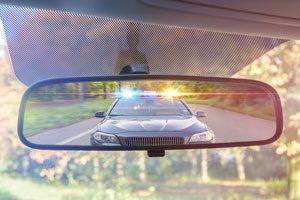 Picture this: You're driving on the highway and push your car's speed to the limit. Suddenly, a police officer pulls up behind you. Your heart races and stomach drops. You hold your breath as your eyes quickly dash to your car's speedometer, double-checking your speed. Luckily, you aren't going over the speed limit. Just as the butterflies in your stomach start to settle, red and blue lights start flashing behind you. You slow the car and come to a stop. The officer tells you that you were going far faster than you thought that you were. Turns out, your speedometer is out of calibration. Now, not only are you running late, but you also owe the state a couple hundred dollars.
If your speedometer isn't calibrated properly, you risk fines, damage to your vehicle, and endangering those around you. You may face similar consequences if your instrumentation is not calibrated at a regularly established interval. You could be subject to disciplinary action from regulatory bodies, damage to your instrument or surrounding equipment, or even harming building occupants by using equipment that is out of specification.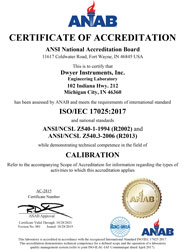 When you send out measurement and test equipment for calibration, you reduce the risk of negatively affecting the system it's used in. But how can you be certain that you can trust the calibration lab and its processes? The best way is to use an accredited calibration provider. Dwyer Instruments, Inc. – Engineering Laboratory, located at Dwyer's corporate headquarters in Michigan City, IN, is an accredited calibration provider for pressure products. When you have your Dwyer products calibrated by our Engineering lab, you will receive calibration services from a team that knows your product inside and out. Thanks to the lab's recent accreditation, you'll also be able to trust that the services you receive are accurate, repeatable, and traceable to the SI (International System of Units) through internationally recognized National Metrology Institutes, such as NIST.
The Dwyer Instruments, Inc. Engineering Laboratory is accredited to ISO/IEC 17025:2017 (General Requirements for the Competence of Testing and Calibration Laboratories) as well as ANSI/NCSL Z540-1-1994 and ANSI/NCSL Z540.3-2006 through ANAB (ANSI National Accreditation Board), which is the largest accreditation body in North America. In order to be identified as an accredited laboratory, the lab has to show objective evidence that it operates competently within its scope of listed activities. A laboratory that can show this evidence must also have an established quality system. The quality system supports all levels of quality with respect to the previously listed accreditation standards, with a focus on the laboratory's measurement and test equipment, the services the laboratory provides, its personnel, and its customers.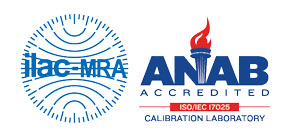 Because the Dwyer engineering lab is accredited through ANAB, the lab is accredited by an ILAC MRA signatory. The International Laboratory Accreditation Cooperation, or ILAC, is the international organization for accreditation bodies operating in accordance with ISO/IEC 17011 and is involved in the assessment and accreditation of laboratories performing calibration (using ISO/IEC 17025), testing (using ISO/IEC 17025), and inspection bodies (using ISO/IEC 17020). ILAC's primary purpose is to establish an international arrangement between member accreditation bodies based on peer evaluation and mutual acceptance. Hundreds of accreditation bodies from all over the world have signed the ILAC Mutual Recognition Arrangement (ILAC MRA) and are recognized as signatories that can assess and accredit conformity assessment bodies against the relevant international standards.  In order to maintain their accreditation, labs are evaluated on a regular basis by ILAC MRA signatories. If you or your customers do business internationally, it is imperative that your equipment be calibrated at an accredited lab to ensure that its calibration upholds international standards (such as ISO/IEC 17025:2017) for test and/or calibration. If you don't use an accredited lab, you will be wasting time and money for calibration services that will not be recognized outside of your home country.
When you receive a calibration certificate from a laboratory, it is important to look for the logo of the body that accredited it. The logo, as well as the certificate of accreditation number, provided on the certificate of calibration gives you peace of mind that the laboratory is a trusted supplier of calibration services. As an accredited OEM laboratory, Dwyer Instruments, Inc – Engineering Laboratory is the best choice when it comes time to calibrate your Dwyer pressure products.
To learn more about our calibration services, you can check out our previous calibration blogs below:
To order calibration services for your pressure products, please visit the Dwyer calibration services website.