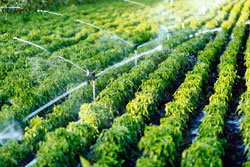 Question: I own a farm and would like to monitor how much water is being used in a safe, lead-free way; how do you recommend accomplishing this?
Answer: For this application, it is important to have a way to reliably measure how much liquid is passing throughout your pipe.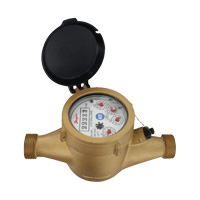 The Dwyer Multi-Jet NSF Certified Brass Body Water Meter, Series WNT, is a series of mechanical, water totalizing meters that display the total water usage in gallons or cubic meter. They are available in a range of body sizes and include NPT or BSPT couplings. Its lead free, NSF certified body is ideal for potable water applications.
These units fit in-line pipe sizes of:
5/8″ x 1/2″
5/8″ x 3/4″
3/4″ x 1″
1″
1-1/2″
2″
If the goal was only to install this totalizing meter in-line in your process, you are now done. You can leave this meter to do its job and periodically check the faceplate to see how much water has passed in the pipe. However, if you desire the ability to read your meter from elsewhere (such as the safety of your house's kitchen), you may also want to consider installing the Rate/Total Indicator, Series RTI2.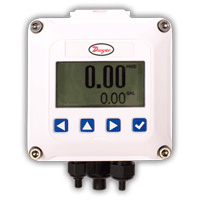 The Rate/Total Indicator, Series RTI2, is an indicator/transmitter that takes the pulse output signal from the reed switch (standard in all WNT models) to display and/or retransmit your total water used data. It only takes pressing a few buttons on the screen of the Series RTI2 to tell the unit how many gallons equal a single pulse wave. For your convenience, Dwyer offers these indicators with three mounting options:
Meter mounted
Panel mounted
Wall mounted
For more information or to order, please visit our website.