Question: Can the Flotect® Vane-Operated Flow Switch, Series V4, be installed in a vertical pipe run?
Answer: The standard Series V4 Flotect® Vane-Operated Flow Switch is designed to be installed vertically, within 5° of vertical, on a horizontal pipe run.  However, the Series V4 can be ordered for horizontal installation on vertical pipe runs, using the –V option in the Dwyer online product configurator.  Note, this option requires a spring loaded vane and is for vertical up-flow applications only.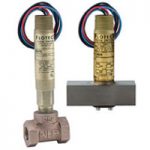 The Series V4 can be used in 1-1/2" pipes and larger.  For applications with pipe sizes ranging from ½" to 2", we would recommend looking at our Flotect® Mini-Size Flow Switches Series V6.  The Series V6 is smaller, and its overall design allows for installation in any orientation.