In many industrial processes, the materials and the end product or by-products
of the process, such as dust or vapors, can create conditions for a hazardous environment. Processes that have potential for hazardous environments include: water treatment, oil drilling, gas and chemical processing, power generation, pharmaceutical, and food manufacturing. The measurement and control of these processes are essential in maintaining optimal conditions of the manufacturing system and preventing catastrophic events. 
All explosions require three things: fuel, oxygen, and an ignition source. The ignition source might be a measurement or control device that gets too hot, induces electric currents, or mechanically creates a spark or static. Control devices need to be rated to meet protection concepts, such as explosion-proof construction or intrinsically safe circuitry. Understanding these protection concepts is critical in the selection of measurement and control devices for use in hazardous environments. Meeting these rating requirements will significantly reduce the chances of an incident occurrence.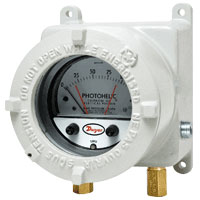 Explosion-proof devices are typically contained in a protective enclosure. The terms explosion-proof and flame-proof are mostly synonymous. An explosion-proof device does not protect a device from an explosion; but rather, it protects the environment outside of the device if faults occur that could generate heat or sparks. If heat or sparks ignite the flammable substance present within the device, an explosion-proof housing contains the explosion in the device. Explosion-proof products utilize a certified, heavy-duty enclosure and are used mainly with high power equipment. Limitations include the housing, which is heavy and expensive. The opening of the enclosure during operation or while powered is not permitted. One must shut down the process in order to service the device.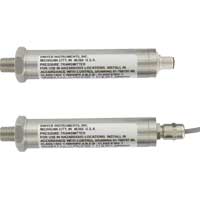 Intrinsically safe devices operate through limiting the energy available to the device. These types of devices are considerably less expensive than explosion-proof equipment and can be maintained while live, eliminating the need to shut down a process. The draw-back is that intrinsically safe devices are only suitable for lower power applications.
Devices, such as pressure gages and pressure switches, that operate in hazardous environments need to be explosion-proof or intrinsically safe. They must have special certifications such as: ATEX, IECEx, UL, or FM. These certifications sometimes overlap in their guidelines and restrictions; but, can have differences. It is essential to choose a device that is correctly designed and proofed for operation in a particular kind of hazardous environment. Internal and external experts who understand certifications and what it means for equipment to be intrinsically safe or explosion-proof are key resources when specifying measurement and control devices for a hazardous environment.