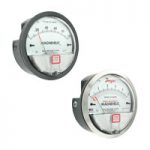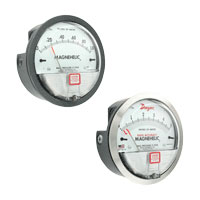 Over the years, Dwyer Instruments, Inc. has continuously improved its position as a global leader in designing and manufacturing innovative controls, sensors and instrumentation solutions. This success is due in part to our invention of the Magnehelic® differential pressure gage in 1953. Since then, the market leading Magnehelic® differential pressure gage has been continuously updated and improved. The Magnehelic® gage is a versatile low differential pressure gage which quickly indicates air or noncorrosive gas pressures – either positive, negative (vacuum) or differential. Over the years, among countless other updates, we've invented a high accuracy version of the Magnehelic® gage which provides an accuracy within 1% of full scale and created backwards compatible products.
Now, we are pleased to announce our newest update 1 Pa minor divisions on the Series 2000 and Series 2000-HA. This revision applies to the standard and high accuracy 60 Pascal Magnehelic® gage ranges including the standard, off-center, and centered Pascal ranges.

Minor divisions are the smallest distance which can be measured using an instrument such as a pressure gage. They indicate the precision of the instrument used. Any reading taken from a pressure gage is only as precise as the resolution of the minor divisions. The former Dwyer Magnehelic® gage scales comprised of 2 Pa minor divisions. This adjustment from 2 Pa to 1 Pa provides a higher resolution.