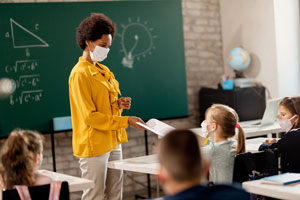 Educational facilities, or public and private institutions devoted to teaching students, differ in physical size and level of education programs. These institutions can range from preschool to university levels, all of which need proper heating, ventilation, and air conditioning (HVAC) systems and indoor air quality.
While indoor air quality (IAQ) is important for everyone's health, it is especially important for young children that are still developing their lungs. The United States Environmental Protection Agency (EPA) Science Advisory Board has completed multiple school studies that show indoor air pollution among the top five environmental risks to public health. 
Indoor air pollution has been found to worsen health complications like asthma and other respiratory conditions and increase risk of reduced lung growth. These studies demonstrate the need for overall good IAQ in educational institutes in order to reduce possible health issues.
Furthermore, to ensure the safety and standardization of HVAC systems in educational institutions and other buildings, ASHRAE (the American Society of Heating, Refrigerating and Air-Conditioning Engineers) provides standards and guidelines to meet energy efficiency, indoor air quality, and sustainability best practices for HVAC systems in buildings.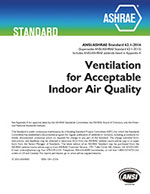 ASHRAE's recent update to Standard 62.1 Ventilation for Acceptable Indoor Air Quality covers changes for monitoring and controlling indoor air, humidity, air changes per hour (ACH), carbon dioxide (CO2), and other variables. Maintaining safe air quality and proper ventilation is critical for educational facilities that have a large number of people in them. 
How Stable Sensors Help with Conformance to ASHRAE 62.1
The guidelines of ASHRAE 62.1 make it clear that proper ventilation and safe IAQ levels is essential. In order to meet and follow their recommendations properly and maintain conformance over time, it is important to utilize stable sensors that monitor ventilation and IAQ. 
Stable sensors in HVAC systems help control outside air delivery, ensure proper air changes per hour, keep CO2 at safe levels, and maintain comfortable relative humidity and temperature within the educational facility. Without stable sensors, measurements can drift over time and cause the HVAC system to provide incorrect outside air delivery, which in turn reduces the indoor air quality. 
How Stable Sensors Tie into ASHRAE Recommendations for Safely Reopening Schools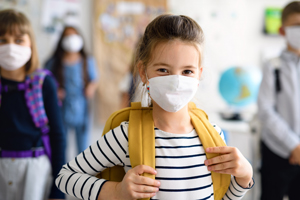 In response to the COVID-19 pandemic, the ASHRAE Epidemic Task Force published guidelines for the safe reopening of schools and universities created to help HVAC designers to retrofit and plan for improvement of IAQ. These guidelines are designed to prevent the transmission of the coronavirus through HVAC systems in schools. 
They recommend routine maintenance and checks for proper ventilation/air flow, relative humidity (RH), temperature, carbon dioxide, and room pressurization. Without stable sensors, control of these environmental conditions would be difficult to maintain. The document goes on to describe proper maintenance intervals for all facets of the HVAC system, including air handling units, boilers, and other major components. 
Lastly, ASHRAE's guidelines for the safe reopening of schools provide new design requirements for educational facilities. The new design requirements apply to new buildings and retrofits. They include:
Temperature and humidity design criteria

Winter classroom – Maintain 72°F and 40-50% RH

Summer classroom – Maintain 75°F and 50-60% RH

Ventilation design criteria 

Increase outside air to maximum

Disable demand control 

Use outdoor IAQ sensors for outdoor pollution information

Design guidelines for school nurse's office
For the design of new educational buildings, ASHRAE recommends designing and building school nurse's stations as airborne infection isolation rooms (AIIRs). School nurse's offices are to be designed per ASHRAE Standard 170, Ventilation of Health Care Facilities. 
Because nurse's offices are to follow the same standards as healthcare isolation rooms, they need to maintain a negative differential pressure between the nurse's office and the anteroom (small room just outside the nurse's office).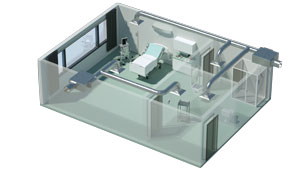 By maintaining a proper differential inside the nurse's office, it ensures that air from the anteroom will be pulled into the nurse's office. This negative pressure relationship prevents pathogens from leaving the room and infecting other students and staff. 
A differential pressure sensor like a Magnehelic® gage can be used to visually verify the negative pressure. However, to provide feedback to a BAS (building automation system) or DDC (direct digital controller), pressure transmitter devices like room pressure monitors, room status monitors, or simple differential pressure transmitters should be used to measure and maintain the pressure difference between the nurse's office and anteroom.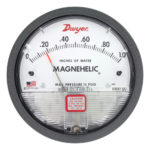 Since the pressure that is to be maintained is relatively narrow (as low as 0.01" w.c.), it is important that the differential pressure sensors maintain their accuracy over time. Additionally, it is equally important for air velocity and air flow transmitters to provide high, consistent accuracy over time to maintain proper air changes (6-12 ACH) in the nurse's office.
As such, it is essential to use air quality, air flow, temperature, and differential pressure sensors that have excellent stability to not only monitor and provide exceptional IAQ, ventilation, and room pressurization, but also to conform with the most recent ASHRAE recommendations and requirements. 
To learn more about stability and why it is important, read our previous blog articles listed below: