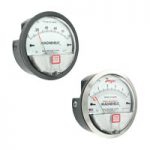 Question: Is there a kit I can buy with the Magnehelic® Differential Pressure Gage for monitoring air filters, so that I don't have to buy all the tubing, static pressure tips, and a bracket separately?
Answer: Using the Magnehelic® Differential Pressure Gage to monitor an air filter is a very common application. For the convenience of our customers, Dwyer offers the Model A-605 Air Filter Kit, which can be purchased for use with the Magnehelic® gage.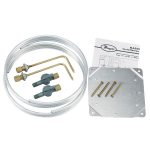 This air filter kit comes with everything you would need to adapt any standard Magnehelic® gage for use as an air filter gage. The kit includes an aluminum surface mounting bracket with screws, two 5′ (1.5 m) lengths of 1/4" aluminum tubing, two static pressure tips, and two molded plastic vent valves. This kit simplifies the ordering process by reducing the amount of part numbers that need to be ordered, as well as eliminating the possibility of forgetting to order a specific part. Additionally, the A-605 will make installation easier because everything needed for the job will already be together, as opposed to trying to piece the necessary equipment together from local stock. With the Magnehelic® Differential Pressure Gage and the A-605 Air Filter Kit, you can rest assured you will have everything you need.
In order to expand on Dwyer Instruments' desire to help our customers and provide added convenience, we have also created several other accessory kits for a variety of instrumentation and applications. If you have any questions about selecting products or accessories for your application, the Dwyer Applications Engineers are available to assist by phone at (219) 879-8868 x6402, or by email at tech@dwyermail.com.