A semiconductor transistor is a part with specific electronic properties that allow it to serve as a component in microchips and modern electronics like phones, laptops, and more. As these components are small and require precise manufacturing methods, there are facilities dedicated to their manufacture.
These facilities consist of several levels including air handlers and scrubbers for exhaust, HEPA room, fab cleanroom, and subfab areas. The control of differential pressure within the facility is essential for the safety of both equipment and personnel.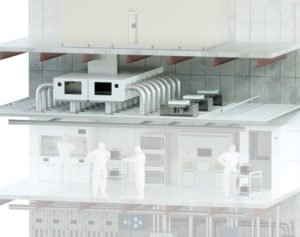 The HEPA/ULPA rooms are found in the space above a semiconductor cleanroom. This area has filtration equipment that removes particulates from the outside environment. A HEPA (high efficiency particulate air) filter and/or an ULPA (ultra low particulate air) filter is used to trap small contaminants and prevent them from entering the fab cleanroom area. The fab cleanroom has to be free of particulates, as it is where semiconductor devices such as microscopic transistors are manufactured. Something as small as a molecule from a fragrance can destroy one of these transistors, making proper filtration an essential part of the semiconductor fabrication process. 
HEPA vs ULPA
HEPA filters are used in many applications, such as cleanroom manufacturing or medical isolation rooms. They are used to eliminate particulate matter that is 0.3 microns in diameter or larger. ULPA filters, on the other hand, are made of a denser material which allows it to trap particulates of smaller sizes (0.12 micron diameters). Because of the material, it usually takes more power to move the air through an ULPA filter than a HEPA filter. The airflow is reduced when using an ULPA filter as well (airinnovations.com).
Dwyer offers an array of instruments for HEPA/ULPA rooms, including for the control and monitoring of pressure, airflow, temperature, and humidity of the space.
Differential Pressure
Gages, such as Dwyer's Magnehelic® gage, allow for a quick visual status check of the pressure across filters. If there is little differential pressure across a filter, it is a sign that the air flow is relatively unobstructed. On the other hand, if there is a significant pressure difference across the filter, it is a sign that there is decreased air flow due to an obstruction like particulate build-up on the filter. Monitoring the differential pressure will help to indicate when filter replacement is needed, or if damper blockages and malfunctions are present. The time-tested Magnehelic® gage features a durable and rugged housing with high-quality components for a long service life. Dwyer also offers a high accuracy version of the Magnehelic® gage, which includes accuracy within 1% of full scale, a mirrored scale overlay, and a 6 point calibration certificate. 
Air Velocity
Measuring the air velocity entering and exiting the space can help to determine the air changes per hour (ACH). Air changes per hour refers to the number of times per hour the air in a cleanroom is replaced with clean, filtered, and treated air. The Series 641RM air velocity transmitter with remote probe features a highly accurate heated mass flow sensor with a remote probe construction. The unit's 6' cable connects the sensing probe with the electronic enclosure and allows the enclosure to be mounted where it can be more easily accessed.
Carbon Monoxide (CO)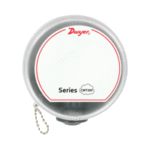 As HEPA filters aren't designed to filter out gaseous particles such as carbon monoxide, it's important to monitor and control the carbon monoxide within the space. This will help prevent carbon monoxide particles from contaminating the cleanroom. The Series CMT200 carbon monoxide transmitter provides a field selectable current or voltage output that is proportional to the gas concentration. 
Temperature and Humidity
Monitoring/controlling the temperature and humidity will allow for greater environmental control, and can help to reduce mold growth. The Series RHP temperature and humidity transmitter combine the voltage or current humidity transmitter output with a passive temperature thermistor or RTD output. 
Occupancy Sensing
The Model OSC-200 omnidirectional occupancy sensor automatically controls a HVAC ventilation system via a spherical lens and provides a 360° detection zone with the use of infrared technology. Using an occupancy sensor is ideal for lighting control, eliminating the need to touch a light switch and therefore help prevent the spread of bacteria, or to engage the HVAC system when individuals are present.
Room Status Monitoring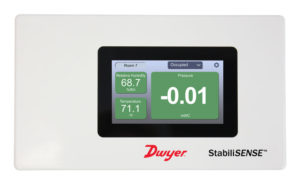 Using a room status monitor allows for several parameters and up to three rooms to be monitored from one central location. The Series RSMC StabiliSENSE™ critical room status monitor is designed for critical low differential pressure applications that require stringent pressure monitoring and alarming. The RSMC is a complete system with a touchscreen graphical user interface which displays a choice of 3 parameters: pressure, relative humidity, temperature, or air change. It also displays door status (open/closed).The graphical display color changes allow a clear determination of when the parameters are operating within the acceptable range (green), caution range (yellow), or have gone outside the acceptable operating range (red). 
When it's critical, it has to be Dwyer.
Dwyer® products are used in many critical applications around the globe, in many different industries. From building control to medical applications, Dwyer® products play a vital role in keeping people safe.
If you have any questions about selecting products for your application, the Dwyer Applications Engineers are available to assist by phone at (219) 879-8868 x6402, or by email at tech@dwyermail.com.