The Series GSTA carbon monoxide/nitrogen dioxide gas transmitters offer a robust, low cost alternative to standalone garage ventilation control packages.
As cities around the world continue to grow, the need for parking becomes an integral part of new commercial and municipal building plans. Many building designers are finding ways to offer adequate parking in a limited amount of real estate. Two emerging trends to do so are enclosed parking garages and mixed-use parking garages. Both of these designs seek to offer users a comfortable way to park their vehicles, all while being near their final destination. This means that the parking facility and the commercial or residential buildings are not separated, but are integrated together into one building structure. Due to this integration, two major concerns arise. How do we ventilate the harmful exhaust from the vehicles while being so close to the populated areas of the building, which require clean air and how do we accomplish this in the most energy efficient way possible? The Dwyer® Series GSTA carbon monoxide/nitrogen dioxide gas transmitters offer the sensory inputs necessary for any building automation system to answer this very quandary in an efficient and low cost manner.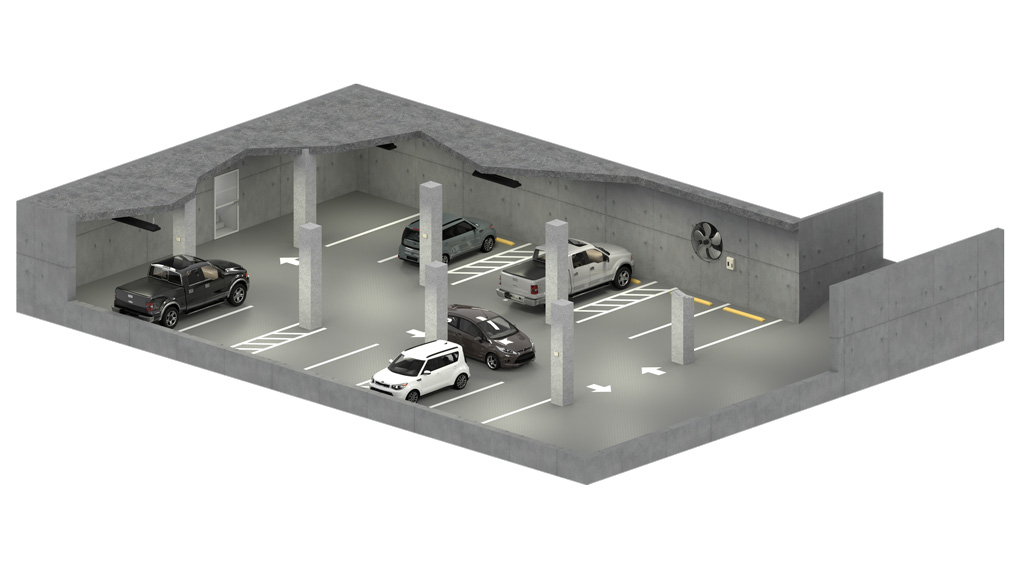 At first, it was thought that just running ventilation fans was the best solution. While this method does remove the harmful elements contained in car exhaust, it is also quite costly; as one is constantly running the fans and may be venting heated or cooled air. Standalone garage ventilation systems were later developed to control the fans so that they only ran when needed. These systems have a master controller and multiple CO and/or NO2 sensors mounted throughout the garage that measure the concentration of the harmful gases exhausted by vehicles (CO is a byproduct of gasoline combustion and NO2 is a byproduct of diesel combustion). When running vehicles are present, the concentration of these gases will increase and the sensor will let the master controller know to run the fan bringing in fresh air until that concentration is back down to a safe level. While these systems are adequate for standalone garage applications, they are often costly and provide limited inter-connectivity with the building automation system.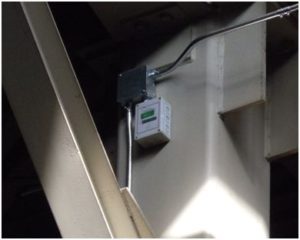 With the Series GSTA, control integrators and building designers now have robust and cost effective CO and NO2 sensors that will send a field selectable 4-20 mA, 0-10 VDC, or 0-5 VDC transmitter signal back to the building automation system. This allows for flexibility in the type of ventilation fan control possible so that the system can be designed to best suit needs of the building, offering a healthy environment while also being as energy efficient as possible.
Recently, a customer was presented with the perfect opportunity for the GSTA to be installed in a municipal vehicle storage facility in Madison, WI. This building houses some of the various vehicles used by the city, such as dump trucks, backhoes, and pick-up trucks. Their task was to provide a system that will keep the facility comfortable in the cold winters, while also ensuring good air quality as vehicles would be in and out of the enclosed space, sometimes idling for a while as they warm up. A control system and heating units were installed, along with damper and fan controls, that would run off the input signals from six GSTA-C CO transmitters and six GSTA-N NO2 transmitters.
In conclusion, the Series GSTA fits the needs for growing applications of CO and NO2 transmitters in garage ventilation control. The internal sensors are replaceable to offer easy field upgrades without having to replace the entire unit.
To learn more about the Series GSTA or Dwyer's other air quality products, please visit our website.