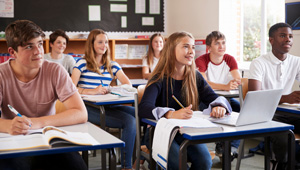 Labeled a "first of its kind investment" by the Department of Energy, a funding opportunity for public K-12 school facilities was approved November 26th, 2022. Its name? The Renew America's Schools Grant.
The first round of these grants will account for $80 million dollars (and the full grant program estimated to total around $500 million dollars) will be allotted for energy improvements that result in direct reduction to school energy costs, increased energy efficiency, and lead to improvements in teacher and student health. 
According to the Department of Energy, "eligible projects will include energy improvements that reduce building operating costs – like new HVAC and ventilation systems, building envelope and lighting projects, and alternative fuel and renewable energy technologies". The problem of aging school systems can no longer be avoided as many district leaders are seeing more and more funds being sunk into the unity costs of inefficient systems rather than making a difference in the classroom. 
With 30% of HVAC ventilation & filtration systems being reported as being in only fair or poor condition (U.S. Department of Education) and 41% of districts saying more than half their schools need HVAC upgrades (Government Accountability Office June 2020), these grants could not have come at a better time. 
Lastly, the Office of State and Community Energy Programs is making this progress even more achievable by pairing the funding with improvement expertise in the form of a partner list. This partner list is allowing organizations with expertise in the topics to express their interest to potential applicants and to explore potential partnerships.
With the potential to create energy efficient solutions that start with the focus on disadvantaged communities, we are all working towards a healthier, safer, and more sustainable world. Dwyer solutions can help make it possible. Contact our technical team for more ways our products can improve your environment.
—
Sources: