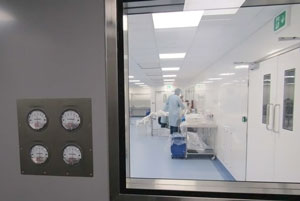 If you've been watching the news lately, you may have heard about isolation room facilities that are going up at a record pace. We've explained in our other blog articles some of the ways that our products are being used to fight COVID-19.
This fight isn't the first time our products have been used in applications that help save lives, and it won't be the last. Dwyer products are used across the world by people who produce food, clean water, and ensure the quality of life of those around them. They're seen at core turning points in the history of both the United States and abroad.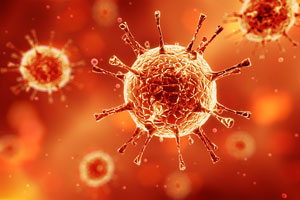 When the astronauts from the Apollo 11 mission arrived back on Earth in 1969, they quarantined themselves in order to make sure that nothing that they brought back with them from the moon would risk the health and safety of the people to which they returned. Much like individuals who are staying home amidst threats of COVID-19, the Apollo 11 team did not know if they were infected with something or not. Rather than risk exposing the population to something that they weren't prepared to face, they kept themselves isolated.
According to Space.com:
[T]he prospect of moon germs also mirrored a real public health concern at the time, of novel pathogens that the population had never had a chance to build an immunity to. It's a fear that remains with us today, which was sparked at the time by, for example, new influenza strains popping up on occasion. If something nasty hitched a ride back from the moon, it would have been the epitome of a novel pathogen. And, it would have driven doctors and public health practitioners way beyond their comfort zone.
This uncertainty that we're facing now is something that many have been trying to prevent for years. At the same time, we (at Dwyer) are incredibly lucky to be in the position where our products are being used to directly help patients, nurses, and doctors.
The Magnehelic® gage was invented by J. Dwyer in 1953, and yes, it was used to measure differential pressure in quarantine facilities like the one in which the Apollo 11 team stayed. To this day, the Magnehelic® is still used by NASA when monitoring moon rocks. It is also used in other applications, like isolation rooms and HVAC filter monitoring.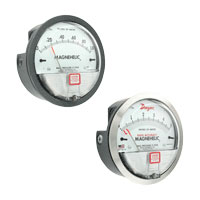 Although the Magnehelic® gage is one of Dwyer's most well-known products, our team has not stopped bringing new ideas to the table. Our SMART Air Hood® balancing instrument, for example, is an innovative rethinking of HVAC building balancing. Its lightweight design and easy maneuverability allows it to reach areas which would be difficult to balance using other more traditional methods. We have several projects in the works, so stay tuned to learn about new products and other industry applications.
We're all taking small steps to move forward together, and together we will be able to get past this time of uncertainty.
—
Dwyer Instruments was founded in 1931 in Chicago, Illinois. Although our headquarters have moved since and our manufacturing operations have expanded, the Dwyer Instruments family has kept its roots planted firmly in the midwest United States. Dwyer manufacturing and design centers are located in Indiana, Minnesota, and Missouri.