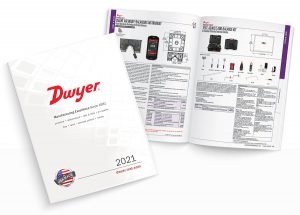 In this age of virtual meetings and online connections, to "Google" something has become synonymous with quickly looking up information. For some, bookshelves are more for decor than they are functional, and trends are leading to becoming more environmentally-friendly and saving paper. Print media is not necessarily "dead," but it is becoming much less prevalent as we journey forward in this digital age.
When speaking on digital resources, we have to take this chance to talk about some of the benefits that our digital catalog can offer. Available on both desktop (via our website) and mobile (via the app), the digital catalog allows you instantaneous access to application guides, selection guides, and product specifications. 
Table of Contents
On desktop, the table of contents can be accessed either from the left side of your browser or the top navigation bar of the catalog browser. This feature is also available at the top of the mobile app. The table of contents includes shortcuts to some of our product applications, recent innovations, product categories, or index.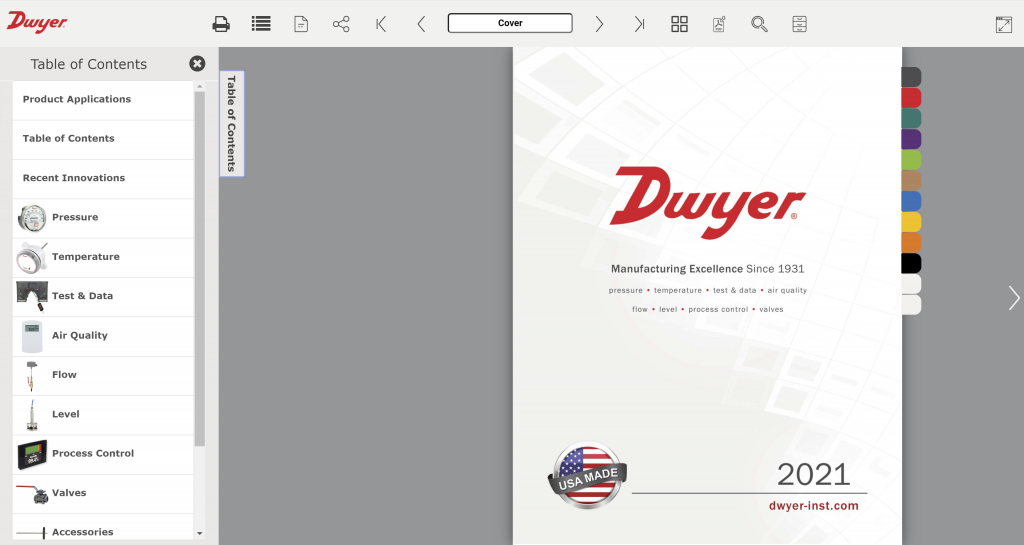 Category Bookmarks
The digital catalog also has "pins" for each section of the book. These are shown as color-coded tabs to the right side of the browser version of the catalog, and allow for quick navigation. If you're someone who likes to have sticky notes or bookmarks in your physical reference texts, this feature is definitely one that you'll be using often!
Print Pages
Pages can be printed for a specific page range as either single or double pages by using the printer icon in the top navigation bar. This is particularly useful if you'll be talking to someone about a specific product or product category, and might want to have the pages printed side-by-side for comparison purposes. You're also able to print as a PDF to retain a digital copy.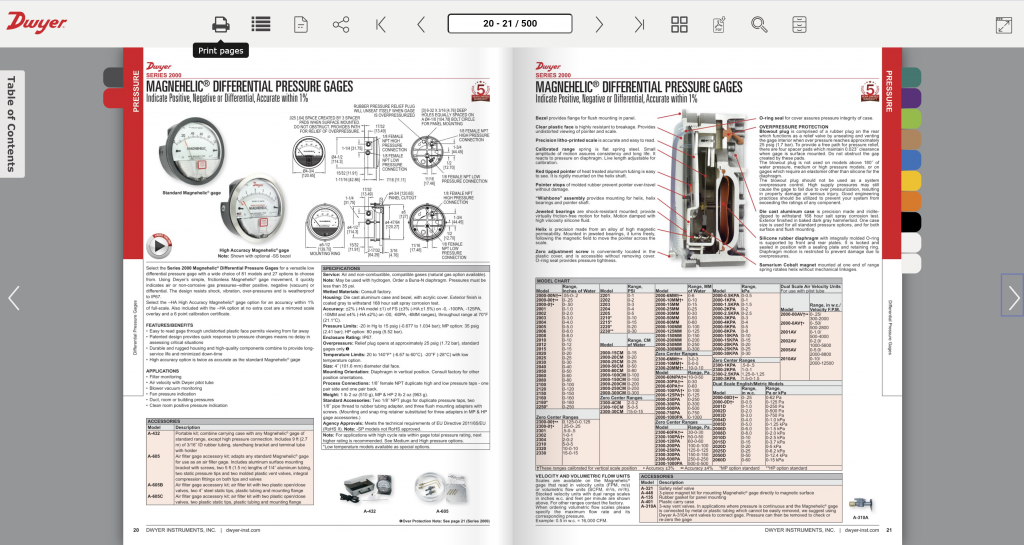 Single Page or Double Page View
When viewing in a web browser, the catalog can be displayed in either single page or double page view. Viewing as double pages more closely resembles the appearance of an open book, so it's a good option if you are used to the physical catalog and would like to replicate that experience (on a screen). The mobile app version of the catalog only allows for single page view.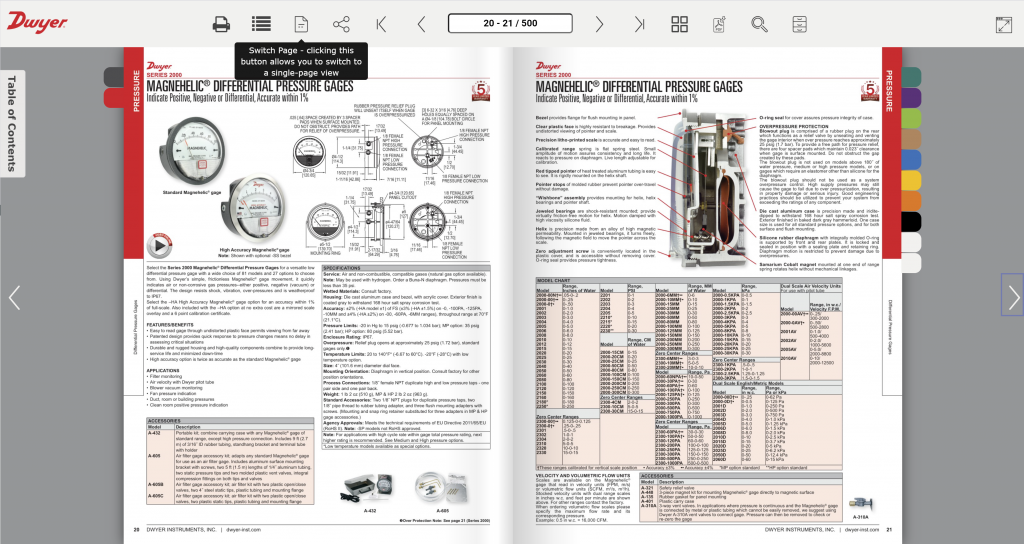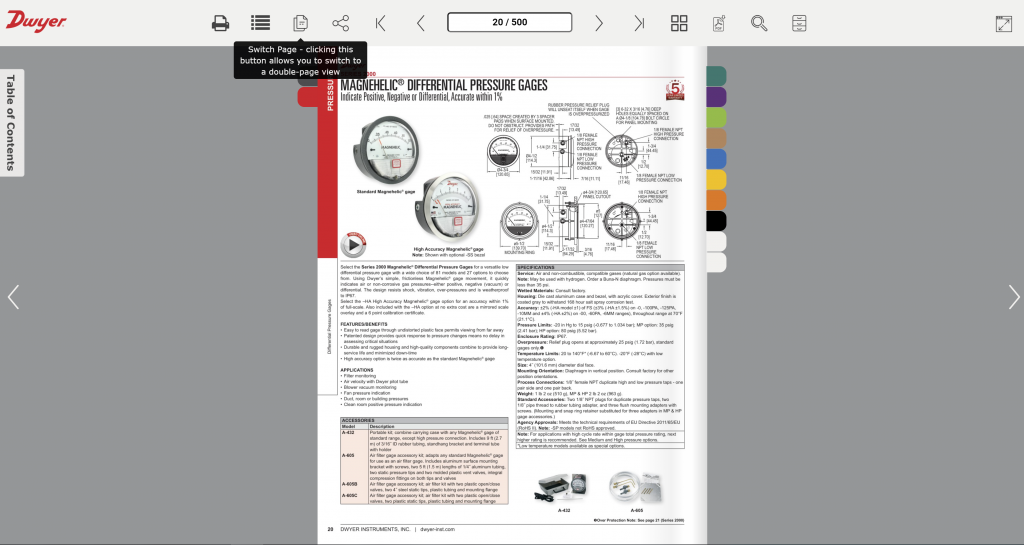 View Page Thumbnails
The option to view page thumbnails allows you to see and quickly scroll through small sample pages. If you know what a product or application looks like but can't quite remember the name, this might be a good way to look through several pages quickly until you come across what you are looking for. To navigate the thumbnails, simply click and hold on the thumbnail section (at the bottom of the browser version or the top of the mobile app) while moving left or right.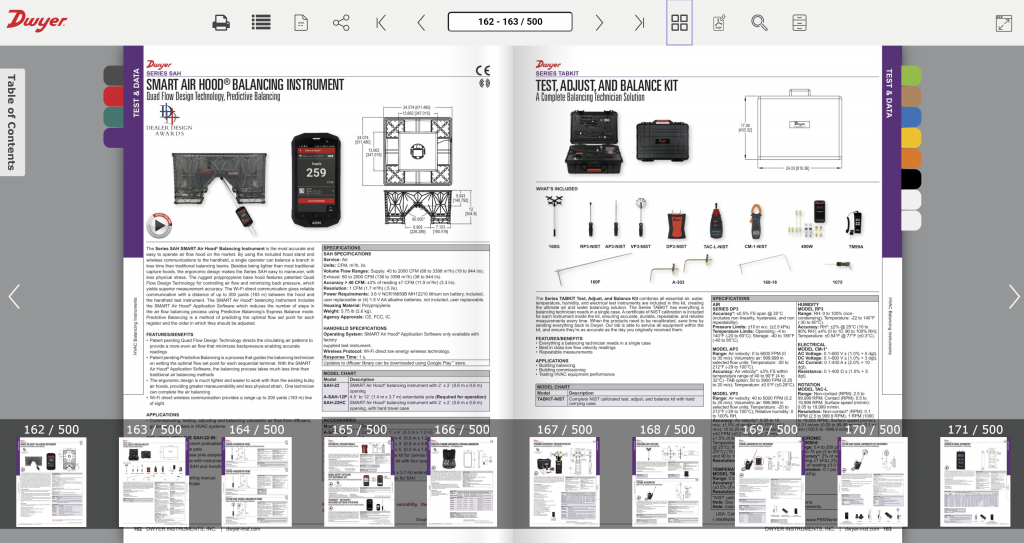 Download as PDF
Similar to printing pages, the digital catalog can be downloaded as a PDF. It is possible to download either the whole catalog or a page range. Downloading as a PDF will allow you to access the catalog when you're not connected to the internet.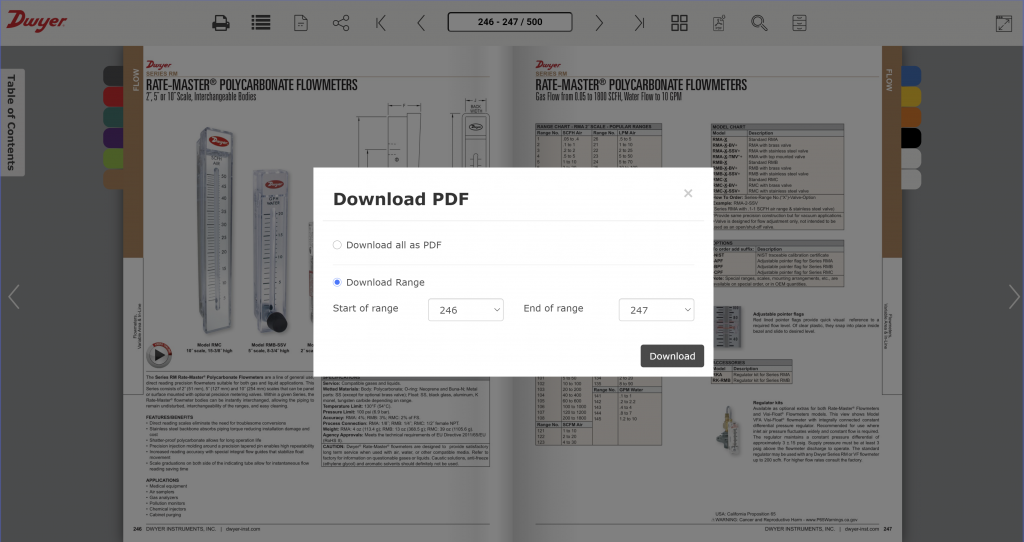 Search Functionality
The magnifying glass icon in the top navigation bar of the digital catalog allows you to search by a keyword or term. It will scrub through the entire book for the word that you've entered and display all relevant information.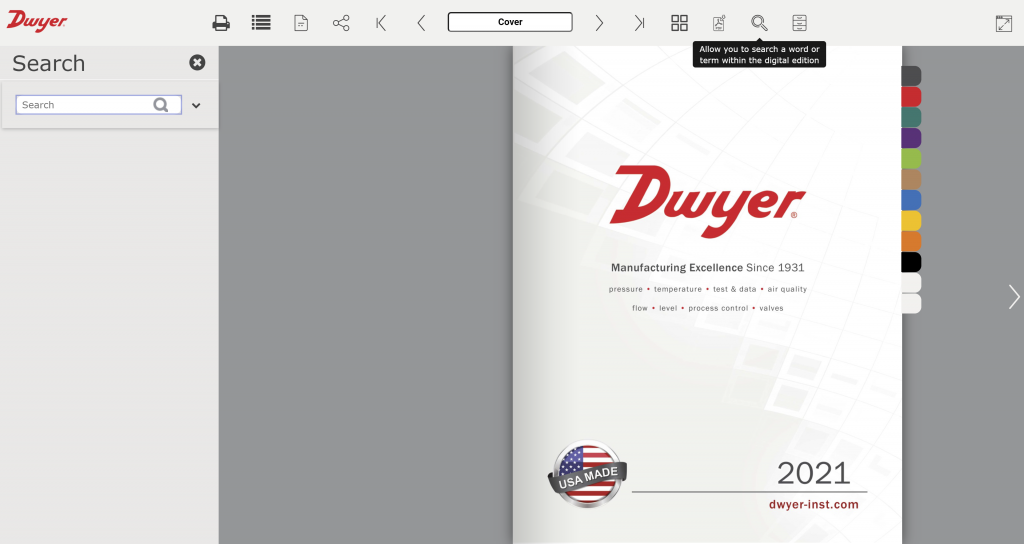 Click to View Documents
This option allows you to toggle between our full line catalog or our small catalogs (BAS, Test & Balance, Wastewater, or Valves & Controls). The click to view documents button is available in the browser version of the catalog. Comparably, the mobile app allows you to select the catalog you'd like to view when the app is first opened.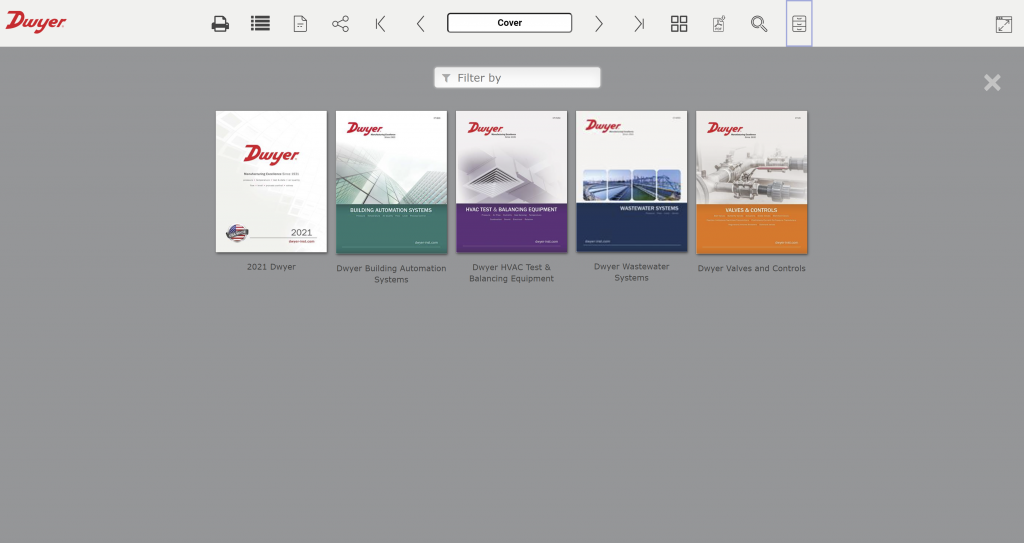 Hyperlinks to Website
The digital catalog is designed to allow you to click on products or links that you are interested in to be taken to the associated web page content on our site. This is a convenient way to find out more information about a specific product or to order online.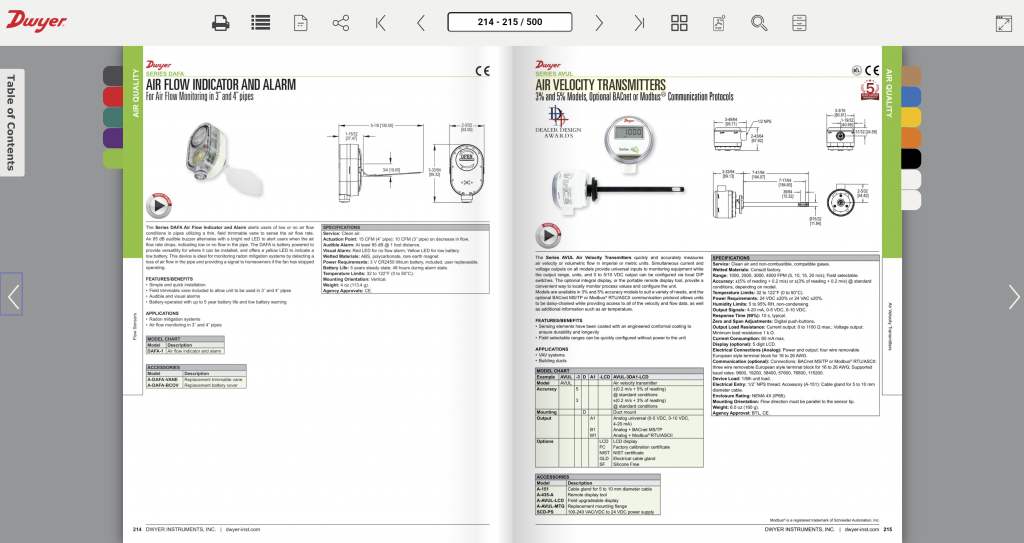 When product literature is updated, it is also updated within the digital catalog. Using the digital catalog is one way to make sure you're using the most current information available. It can be downloaded for both iOS and Android devices, or accessed via browser on the Dwyer website.